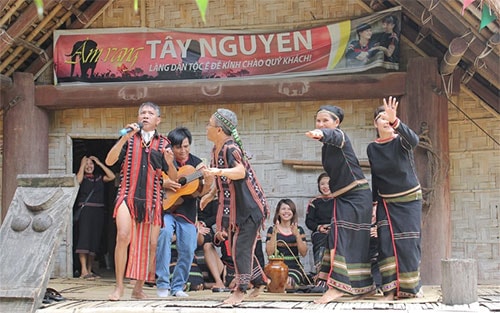 The highlight of the October programme is an activity of the Central Highlands people named "The call of the forest" (Photo: Vietnam National Culture and Sports Village)
The programme has attracted the participation of more than 100 people of 16 ethnic groups from 12 provinces and cities across the country, including Tay, Nung, Dao, Mong, Thai, Muong, O Du, Kho Mu, Ta Oi, Co Tu, Ba Na, Xo Dang, Gia Rai, RagLai, Ede, Khmer.
Some highlight of the October programme are the activities named "A call of the forest" with the art show "Central Highlands Dance" on every Saturday and Sunday, introducing traditional activities of the Central Highlands ethnic groups. On the weekends of the month, a Homestay tour programme called "A day in the village" will be organised to help visitors to experience life at Muong, Tay and Thai homes in the village.
Activities in October contribute to promoting the introduction of landscapes, living spaces, cultural features, and customs of ethnic minorities.
Through the activities, the programme aims to contribute to strengthening exchanges between ethnic groups and attracting tourists to the Vietnam National Village for Ethnic Culture and Tourism, thus ensuring the return to a "new normal" state with the dual goal of fighting against the COVID-19 and attracting tourists under the programme "Vietnamese travel Vietnam".
Source: NDO