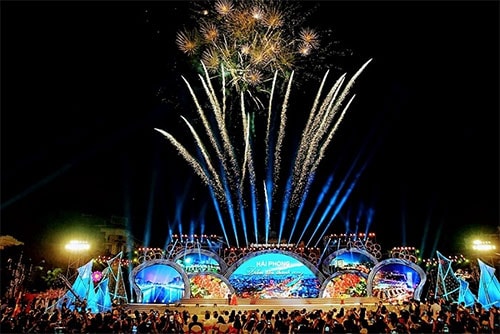 A firework display in the inner-city area in Hai Phong.
The 2020 firework locations will be maintained, including at the Hai Phong Fine Art & Exhibition Centre – Tam Bac Lake, An Bien Lake, Vietnam Singapore Industrial Park - VSIP (Thuy Nguyen District), Nguyen Binh Khiem Temple (Vinh Bao District), Cat Ba Wharf area (Cat Hai District), and the administrative centres of An Duong District, Tien Lang District and Duong Kinh District.
The four additional venues are the administrative centre of Kien Thuy District, Hanh Phuc Lake (Kien An District), Do Son District Stadium, and An Lao District Stadium.
As scheduled, each of the 12 firework shows will feature 500 high-altitude fireworks interwoven with 120 low-altitude ones.
Source: NDO