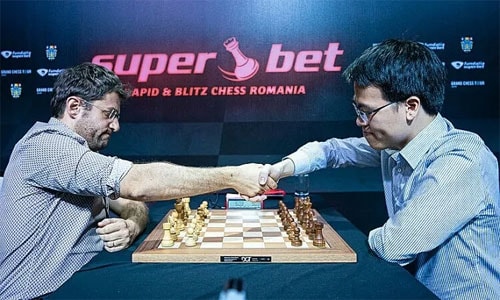 Vietnamese grandmaster Le Quang Liem (R) competes in the 2019 Superbet Rapid & Blitz in Romania last month.
Grandmaster Liem is seeded 21st in the rapid event with an Elo rating of 2,740, and is named seed no. 11 in the blitz category with an Elo rating of 2,768.
This year's tournament has brought together most of the world's top-ranked players, including Magnus Carlsen (top seed in rapid, no. 2 seed in blitz), Maxime Vachier-Lagrave, Hikaru Nakamura, Levon Aronian, Alexander Grischuk, Shakhriyar Mamedyarov, Anish Giri, Ian Nepomniachtchi, and Sergey Karjakin.
The rapid chess competition is due to be played out from December 26-28 with 15 rounds of play. Each player has 15 minutes on their side, plus a 10 second increment per move. Meanwhile, the blitz chess tournament features 21 rounds from December 29-30, with each play having a total of just three minutes, plus a two second increment per move.
The player with the most points (one point for a win, half a point for a draw, zero for a loss) is declared the World Rapid / World Blitz Champion. If two or more players score the same number of points, a tie-break will be used to determine the overall winners.
A prize fund of US$1 million is up for grabs, with the rapid and blitz champions receiving US$60,000 each.
Vietnam's greatest achievement at the World Rapid & Blitz Championships was a first-place blitz finish by Le Quang Liem in 2013.
Source: NDO