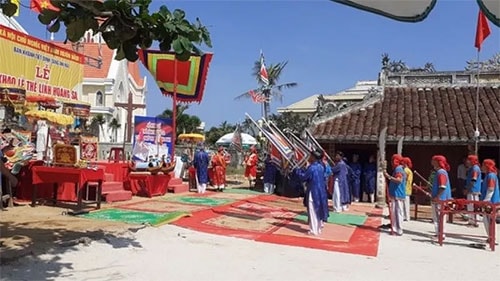 The festival to commemorate soldiers of the Hoang Sa Flotilla on Ly Son Island (Photo: VOV)
Under the Nguyen Lords and later Nguyen Emperors, soldiers and sailors were dispatched to the Hoang Sa and Truong Sa (Spratly) to install markers establishing Vietnamese sovereignty over these islands.
Although such expeditions were so extremely treacherous that most would die on duty, generations of Ly Son residents have always been willing to sacrifice themselves for the nation.
The festival has been held for 400 years and is recognised as a national intangible heritage.
Bui Minh Canh, a member of the festival organising board, said the ceremony is held every year to pay tribute the Hoang Sa Flotilla, as the mission was known, as well as educate the younger generations about Vietnamese sovereignty.
According to a local fisherman, despite facing numerous difficulties, Ly Son fishermen still continue to sail and catch fish in the traditional fishing grounds of Hoang Sa and Truong Sa.
Source: NDO