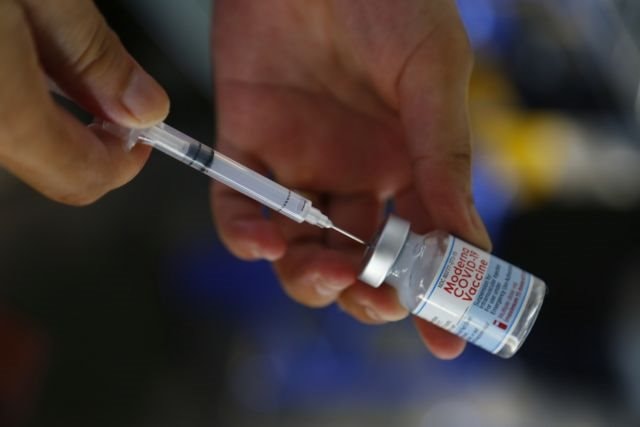 The vaccines are part of a donation from Australia, he said on Monday at a press briefing for the Government's regular meeting.
Apart from Pfizer/BioNTech vaccines (Comirnaty) approved for use in children aged 5-11 years old, Vietnamese health authorities said they had expanded the emergency use authorisation for Moderna COVID-19 vaccine (Spikevax) to include children from 6 to 11 years old.
The Ministry of Health on Sunday worked with the Australian Ambassador to Vietnam and the Director General of Pfizer in Vietnam, and both agreed to deliver the vaccine to Vietnam as soon as possible.
Tuyen said the ministry had initially proposed to buy 21.9 million doses of vaccine. However, during the negotiation to sign the contract with Pfizer, several international organisations and countries, including the embassies of Australia and the Netherlands in Vietnam, announced donations of vaccines for the country to immunise children.As a result, the ministry is adjusting the quantity of Pfizer vaccines purchased. Concerning parental willingness to vaccinate children aged 5-11, the ministry coordinated with agencies to conduct a survey, and 60-80 per cent of respondents agreed to administer youngsters with the vaccines.
Tuyen said that the ministry had built a plan to increase public information and organise training sessions for localities to vaccinate children.
Experts have confirmed that COVID-19 vaccines cause no negative impact on child genetics or future fertility, so children should be vaccinated to reduce the risk of severe disease and hospitalisation.
In reply to parental concerns, Dr Tran Minh Dien, director of the Vietnam National Children's Hospital, said COVID-19 vaccines had no effects on the development of puberty or future fertility of children aged between 5 and 11.
He explained that the essence of this vaccine is that messenger RNA components, when entering the cell, create proteins and coordinate with immune cells to produce antibodies. The messenger RNAs do not enter the human genetic cell reservoir.
He added that the immediate side effects in children after getting COVID-19 vaccines would be the same as in adults, so there was nothing to worry about. Ha Noi inoculates children aged 5-11 from second quarterHà Nội plans to administer vaccines for children from 5 to 11 from the second quarter of this year following a vaccination plan issued on Monday by the municipal People's Committee.The city targets over 95 per cent of children from 5 to 11 years old to be inoculated with two full jabs, based on the number of allocated vaccines. Measures will be taken to ensure vaccination safety.
The vaccine will be administered to children by age, starting with higher aged children and gradually moving to the youngest.Vaccinations will be mainly carried out at mobile vaccination sites at schools. Children who do not go to schools or need to delay vaccinations will be inoculated at medical stations or health facilities.
The Ha Noi People's Committee on Monday approved the education department's proposal to resume in-person learning in first to sixth grades in all of its 30 urban and outlying districts and townships from April 6.
Ha Noi is the last locality allowing primary students to return to class after nearly a year of virtual instruction.
The capital city's decision will help increase the rate of students studying in person nationwide to 97 per cent from April 6, according to the Ministry of Education and Training.