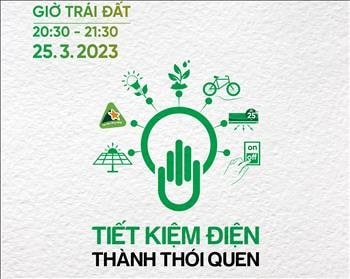 Accordingly, public agencies, organizations, businesses are asked to turn off lights and unnecessary devices during one hour to save energy, protect the environment and cope with climate change. Departments, units, enterprises and localities are urged to intensify propaganda on power savings to raise public awareness of cadres, civil servants and workers to build up responsibility for limiting the impact of climate change. Citizens are encouraged to turn off lights and other household equipment during the campaign. Department of Education and Training and the the provincial committee of Ho Chi Minh Communist Youth Union take responsibilities for asking schools to boost propaganda among students, youth so they will actively join the campaign.
People's committees of communes/wards/townlets, business facilities, social organizations and households in the province will take simple but meaningful act of turning off lights and unnecessary devices with suitable ways while responding the opening ceremony of Visit Vietnam Year 2023-Binh Thuan Green Tourism Comes Together.
Binh Thuan Electricity Company have well prepared operation methods for safe operation of power supply network during Earth Hour Campaign. The company also mobilized dragon fruit growing households to suspend lighting for off-season flowering during Earth Hour.