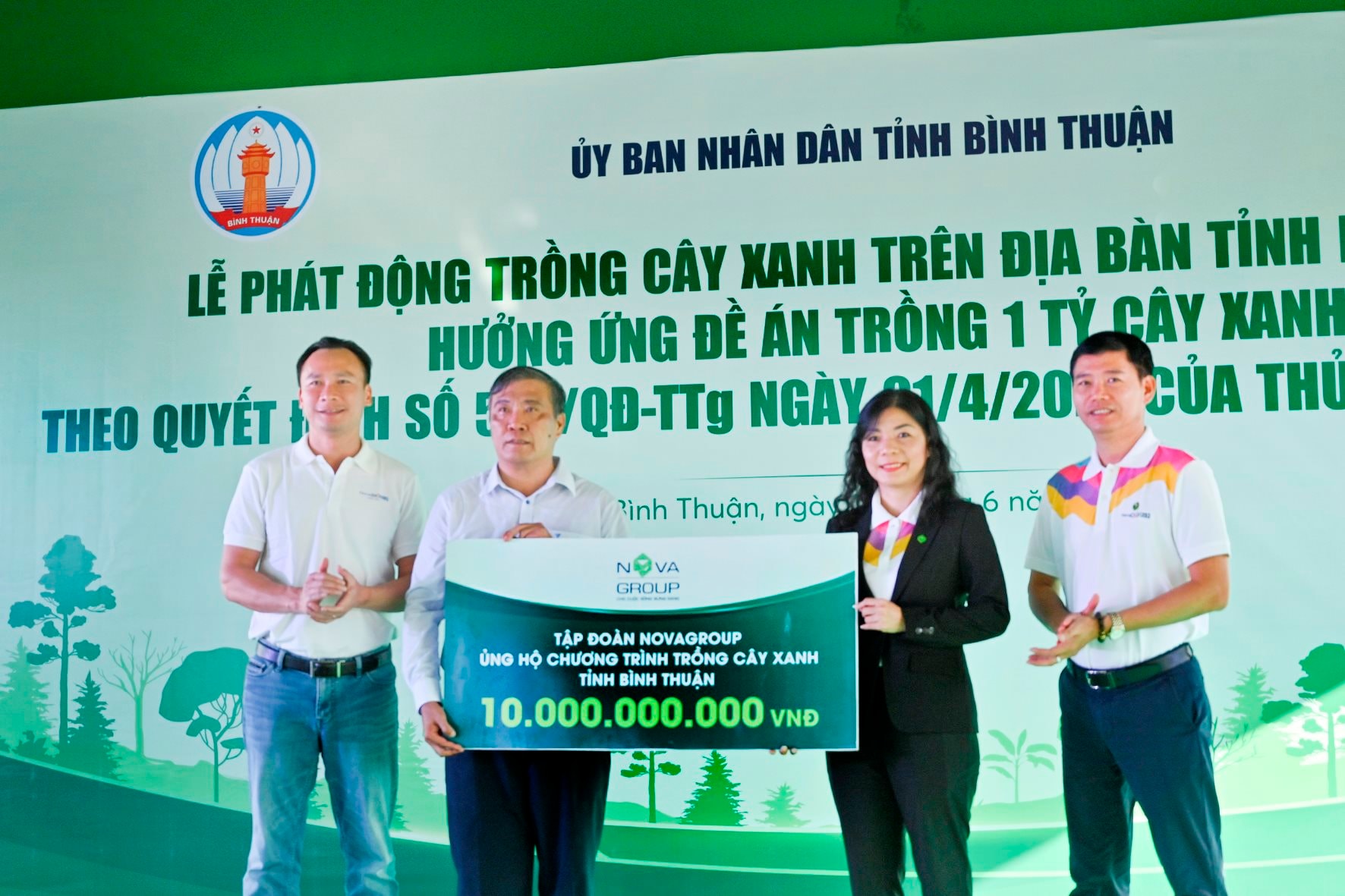 The event had the attendance of Mr. Nguyen Hoai Anh-Standing deputy Secretary of the provincial Party Committee cum chairman of the provincial People's Council, Mr. Nguyen Van Phong-vice Chairman of the provincial People' Committee, along with representative leaders of departments, agencies, localities, and representative leader of the project's sponsor-NovaGroup.
Speaking at the ceremony, PPC vice chairman Nguyen Van Phong stressed that Binh Thuan has about 150,000 ha of arid-sandy soil and rocky mountains (acounting for 19% of the total natural area). Of which, about 15, 757 hectares of land have been under degradation. Desertification and land degradation have gradually occurred in the north regions of Binh Thuan such as Tuy Phong and Bac Binh districts, affecting the lives and agricultural production of local residents. Apart from efforts to boost industrialization, modernization and urbanization, the authorities have taken into account the importance of environmental protection via planting more green trees towards sustainable development. Mr Phong also highly appreciated enterprises, especially NovaGroup for taking the initiative in implementing tree planting program in Binh Thuan, contributing to disseminating the message of "For a Green Vietnam" among the community.
At the ceremony, Binh Thuan's leaders also called on units and localities to attract more resources from all economic sectors to fulfil the goalsof preserving ecosystem and living environment, towards improving natural landscapes and dealing with climate chance.
With a total fund of VND 10 billion, NovaGroup and its affiliates will collaborate with local authorities to plant trees along main road in Phan Thiet city, then expand the plan to districts in Binh Thuan.
About 19 trees of all kinds are planned to be grown at several location across Phan Thiet city, including 69 Narra Padauk trees along Ba Trieu Street and Pham Van Dong street, 50 Apitong trees and Narra Padauk trees at a block of land next to Doi Duong Hotel. After the ceremony, Phan Thiet city will take responsibility for planting another 475 Bougainvillea spectabilis trees and 475 Caribbean Trumpet trees (Tabebuia aurea) along the routes of Au Co and Lac Long Quan.