On the occasion of the province's 30th re-establishment anniversary (April 1, 1992 - April 1, 2022), the Provincial Center for Culture and Cinema will coordinate with relevant units and localities to develop specific contents to organize the events and activities. In addition to visual promotion and propaganda integrated into the activities of bringing culture to the grassroots, this unit also organizes various types of art performances to serve the people and visitors. Besides, it also built the content of organizing a photo exhibition "Binh Thuan: Potentials, achievements, and development prospects" at Ho Chi Minh Museum - Binh Thuan Branch, Provincial Library, Cultural Center - Electricity Provincial photo, Provincial Convention Center.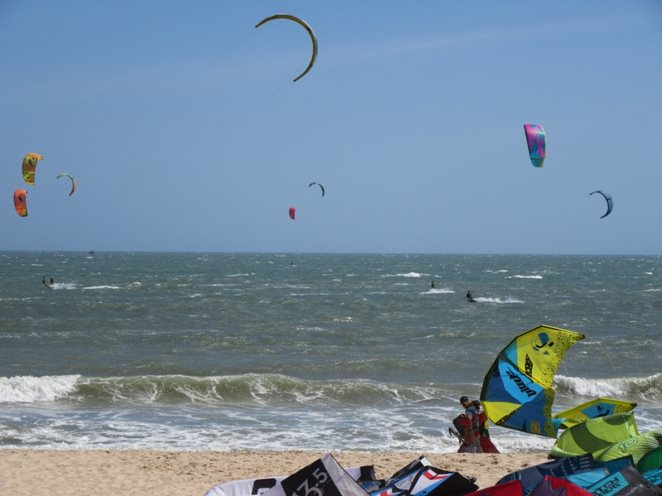 The Bien Xanh Music and Dance Group co-presides with related units and localities, develop the content of the welcome art program in the celebration and performs at the Ancestral Anniversary Festival (Hung Vuong Temple, Phan Ri Cua town, Tuy Phong district). Coordinate to organize various art performances to serve the people and tourists in the event of Cultural Tourism and Culinary Tourism Week on weekends (Fridays, Saturdays, Sundays) from 16/ 4 - May 1, 2022, in some key tourist areas of Phan Thiet city.
Meanwhile, Ho Chi Minh Museum - Binh Thuan Branch will take charge of coordinating to organize the photo exhibition: "Binh Thuan: Potential, achievements and development prospects" exhibition at the unit. It also conducts embellishment, bonsai care, decoration, lighting, strengthen protection work in Duc Thanh Relic Park and the Museum to serve the visit to Uncle Ho of the delegation of provincial leaders and departments, local tourists inside and outside the province...
In the field of sports, the Center for Training, Coaching, and Sports Competition jointly organize the Phan Thiet Cycling Tournament, the Triathlon Championship: Swimming - Running - Skating Bau Trang Sand Dunes (combined with the program). canoeing, kayaking on the lake and paragliding), Phu Quy bicycle race, Bike journey to celebrate the 30th anniversary of the re-establishment of the province. On this occasion, it is also proposed to organize a sea sports tournament: windsurfing, kitesurfing, beach volleyball, beach soccer, beach handball, etc in Phan Thiet city and coastal districts and towns.
With the assigned tasks, Binh Thuan Tourism Promotion Information Center cooperates to promote tourism through programs and activities to celebrate the 30th re-establishment anniversary of the province. News articles, photos, TV reports introducing tourism activities, unique products, services, new tour routes, local natural attractions to people, tourists and companies travel, travel in the country are timely updated
The plan, which is developed by the Culture, Sports, and Tourism sectors, also aims to ensure completeness, timeliness, thoughtfulness, and economy in organizing activities associated with implementing safety adaptation measures against the Covid - 19 epidemic.