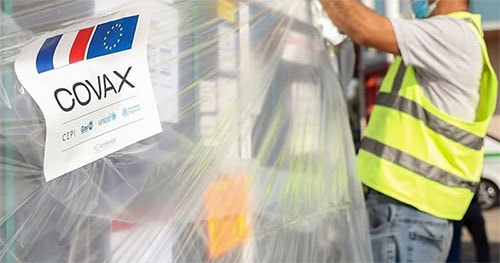 Nearly 970,000 doses Pfizer vaccine donated by France arrive in Vietnam.
In addition, an additional bilateral aid of 400,000 doses of the French government's vaccine is expected to be delivered in the coming days.
This vaccine donation was announced by French Prime Minister Jean Castex during Prime Minister Pham Minh Chinh's official visit to France from November 3-5.
Sharing the COVID-19 vaccine is one of France's top priorities, French Ambassador Nicolas Warnery said that France was the first country to share vaccines through the COVAX mechanism last April, and has pledged 120 million doses between then and mid-2022. The donation of nearly 1.4 million doses to Vietnam at this time along with the 672,000 doses that arrived in Vietnam in September is part of this support commitment. These supports are in line with the long-term and effective cooperation between France and Vietnam in the health sector.
Ambassador Nicolas Warnery also shared that the France's vaccine donation shows its solidarity with the countries affected by the pandemic, towards increasing the rate of vaccine coverage globally. France is providing its partners with all the vaccines that have been used to immunise the French people, such as Astra Zeneca, Pfizer, Janssen and soon Moderna. Much of France's vaccine donation is channelled through the COVAX Mechanism to ensure an efficient and fair global distribution.
This donation is a complement to #TeamEurope's support to help Vietnam fight the pandemic. This contribution is truly meaningful through the financial contribution to COVAX and through the donation of vaccines and other medical items by the member countries.
According to the Vietnamese Ministry of Foreign Affairs, in the context of the complicated developments of the Covid-19 pandemic, the support and assistance provided by the French Government and people to the Government and people of Vietnam is very important. This is also a living testament to the strategic partnership between the two countries and affirms the spirit of cooperation and mutual support in disease prevention.
With the delivery of vaccines supported by the French Government, Vietnam has received 31,145,260 doses of Covid-19 vaccine through the COVAX mechanism. The addition of this vaccine will help the Ministry of Health expand coverage and reach more people belonging to priority groups, including the elderly and those with underlying medical conditions, contributing to fulfilling the goal of immunising more than 70 % of the country's population by the end of the first quarter of 2022.
Source: NDO