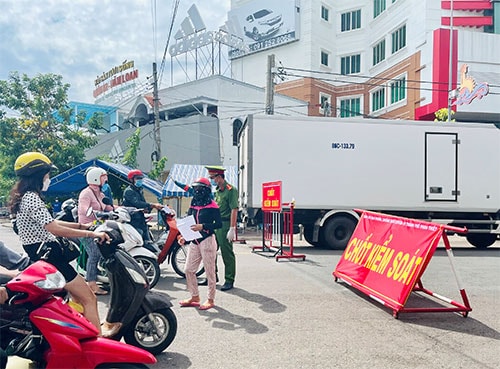 Accordingly, Phan Thiet city's leader requested the police force to set up plans and direct traffic police officers to intensify inspection and control of transport vehicles getting into the city, as well as maintain security, social order to ensure pandemic prevention. Authorities of wards, communes are asked to keep the administration of lockdown areas and quarantine facilities. The roles of community-based Covid-19 monitoring groups have been promoted to timely detect people returning from pandemic hot spot to ask them make medical declaration and quarantine measures as stipulated.
Earlier on October 15, people's committee of Phan Thiet city had issued official dispatch No.5750 on maintaining Covid-19 check-points on the three bridges running from the Northern to the Southern area of Ca Ty river and on the Southern gateway of Phan Thiet city in order to limit travelling between high risk areas and safe regions.
As of now, Phan Thiet city has finished Covid-19 screening tests in the community in "red areas". Currently, the city is focusing speeding up vaccination in high risk areas.
In the context of implementing the Government's Resolution No.128 on interim regulation on safe and flexible adaptation to and effective control of Covid-19 pandemic, the decision on the removal of Covid-19 check-points in Phan Thiet will contribute to boosting new measures on facilitating production and business recovery towards promoting socio-economic development, turning people's lives into a new normalcy.
Translated by Phuong Lan (Source: Binh Thuan Online)